Motor City Brew Tours Presents: Cruisin' for the Trails – Spring Charity Bike Ride – Saturday May 5, 2018
Tickets: $25 online / Day of Event – $30 (cash only)
Enjoy a bike ride along the Clinton River Trail and Paint Creek Trail. Special Griffin Claw Brewing Beer Themed SAG stop (Beer and Donuts) at the Paint Creek Cider Mill. Post-ride Griffin Claw Brewing beer tap event with a live band, drink specials, plenty of giveaways and a charity bike raffle featuring a special Griffin Claw Brewing Cruiser Bike! Net proceeds from the bike ride & raffle will support: Friends of the Paint Creek Trail
Bike Ride Start: Clubhouse BFD – 2265 Crooks Rd. Rochester Hills, MI 48309. Registration – 9:30am-10:30am. This event occurs RAIN or SHINE.
For Tickets, visit:  https://www.eventbrite.com/e/cruisin-for-the-trails-spring-charity-bike-ride-may-5-2018-tickets-42005629970
Frequently Asked Questions:
What is included with my adult ticket? MCBT Logo Coaster (Bamboo/Bike Chain – First 500 people), 2 beers (1 at the Cider Mill SAG stop and 1 at Clubhouse BFD in the outdoor patio area) and 2 fresh full sized donuts at the cider Mill. Draft beer specials and food for purchase will be available in the outside patio area of Clubhouse BFD at the end of the ride. Bike support from Main Street Bicycles at registration and at the SAG stop. Motor City Brew Tours giveaways and a bike raffle and a patio outdoor party with live music back at Clubhouse BFD at the end of the ride in the patio area next to the front parking lot.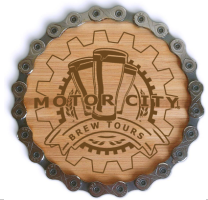 Are children allowed on this ride? With every paid adult ticket (for those 21 and older), one minor is allowed to attend the event. Only paid adults of legal drinking age will receive the SWAG – please bring an ID to event check-in. Please keep in mind that there is not a SAG support vehicle for the ride, so any children need to be able to complete the ride with you.
What time does the bike ride start? Registration begins at 9:30 am – 10:30 am. All riders need to have started the route by 10:30 am. The SAG stop is open from 10 am – 12:30pm. The Griffin Claw Brewing Bike drawing will be by 2pm.
How far do we bike and is it hard? The main bike tour route is up to 17 miles, on flat rail trails and sidewalks. Clubhouse BFD to downtown Rochester is 3.5 miles each way. Rochester to Paint Creek Cider Mill is 5 miles each way. The entire Paint Creek trail from Rochester to Lake Orion is 10 miles each way. You can add on some extra mills and complete the whole entire Paint Creek Trail from Clubhouse BFD to Lake Orion and back, you get 27 miles for the day!
Where does the bike ride begin and where should I park? The ride departs from and returns to Clubhouse BFD – 2265 Crooks Rd. Rochester Hills, MI 48309. The event parking lot is direclty behind the Clubhouse BFD building in the St. John Hospital Rochester Hills lot. Parking attendants will signal where you enter the parking lot and park. Registration for this event is in the front of the building. Please note – The Clubhouse BFD parking lot will be closed off for the duration of the event. Just follow the event signs to enter the parking lot(s). From Crooks Road go east on Starr-Blatt Road (Speedway Gas Station). Turn right into the main event parking lot of the St. John Hospital Rochester Hills. Additional industrial parking lots are further down Starr-Blatt Road. Due to limited parking, please try to car pool or bike to the event registration location.
What is the policy regarding cancellations for this Bike Ride: Reservation Fees received by Motor City Brew Tours are non-refundable and not transferable to other events. If you are unable to attend an event, bike ride tickets can always be transferred to another guest. They just give your name at the event registration at Clubhouse between 9:30am-10:30am.
What type of bike is recommended for this ride? Mountain, comfort or road bikes are fine for this bike route. You will be riding on rail trails that are paved, hard packed rock and dirt surfaces. For your safety, helmets are strongly recommended for all of our tours.
What should I bring with me on the bike tour? Yourself, a bike in good working condition, helmet, water, bike lock,identification, cell phone, a little money for other purchases, tire pump and a spare bike tube. Please wear seasonally appropriate clothing, sunblock and rain gear (if needed).
Where can I contact the organizer with any questions? For more Info: info@MotorCityBrewTours.com or call us: 248-850-2563.